Occupational Health Services
Your employees are your company's most valued asset, and taking care of them, is what we do at Company Care. We specialize in occupational health and industrial medicine, offering an extensive list of services including drug screenings, physical exams and workers' compensation.
Company Care has the resources, experience and expertise to provide comprehensive occupational health and wellness services to major employers, municipalities and small businesses in the community. Whether you have 5 or 5,000 employees we can design a program to meet your company's needs.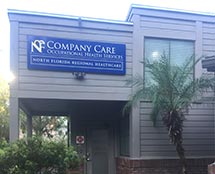 Company Care Gainesville
1034 NW 57th St
Gainesville, FL 32605
Company Care Lake City 2970 W. US Hwy 90, Suite 120
Lake City, FL 32055
Mammogram Screening Party

Speak with your employer about setting up a private mammogram screening party.
Cooking with Company Care

Cooking with company care coming soon to our locations!
Speak with your employer about having a Certified Ergonomic Assessment Specialist come out to your location.