Occupational Health Services
When you are seeking Occupational Health Services for your company, experience counts, and our Occupational Health Services program is recognized as a leader in Industrial Medicine and Occupational Health. We have a history of providing comprehensive occupational health services to major employers, municipalities and small businesses in the corporate community. Whether you have 5 or 500 employees, we can design a program to meet your company's needs. Company Care is dedicated to helping you build a healthier workforce and business.
In 2012, Company Care added an Employee Wellness Program to our list of services in order to control rising healthcare costs, improve employee productivity, improve employee morale and reduce absenteeism and turnover. The H2U Works program is currently only available at the Gainesville location.
Learn more about the program here.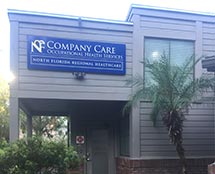 Company Care Gainesville
1034 NW 57th St
Gainesville, FL 32605
Company Care Lake City 2970 W. US Hwy 90, Suite 120
Lake City, FL 32055
Mammogram Screening Party
Speak with your employer about setting up a private mammogram screening party.
Cooking with Company Care
Cooking with company care coming soon to our locations!
Ergonomic assessment services coming soon to our locations!