For more information on how Company Care can provide you and your company with prompt, quality medical attention, follow-up reports and cost effective programs for your workers' compensation, occupational health needs and employee wellness, please contact us.
Hours
Mon – Fri: 8:00am - 4:30pm
Our Locations
We have locations in both Gainesville and Lake City to serve you. See below for contact and directions.
Gainesville Location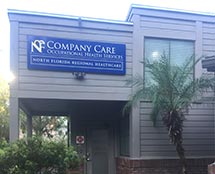 1034 NW 57th St
Gainesville, FL 32605
Lake City Location
2970 W. US Hwy 90, Suite 120
Lake City, FL 32055