Scott Wenger, MBA-HCM, CEAS1, Director
Scott holds his Bachelor's Degree from Florida State University and graduated with his MBA in Healthcare Management from Florida Technical Institute. He is a Certified Ergonomic Assessment Specialist 1, CEAS and holds certifications as a Urine Drug Screen Collector and Trainer. He has been with HCA for the past 11 years – 9 of which have been with Company Care. Scott, along with Wendy Fairhurst, RN, opened Company Care in 2011 when it was added to North Florida Regional Medical Center. Scott, when not traveling, can usually be found at Walt Disney World with his husband and two children.
---
Cricket Johnson - Manager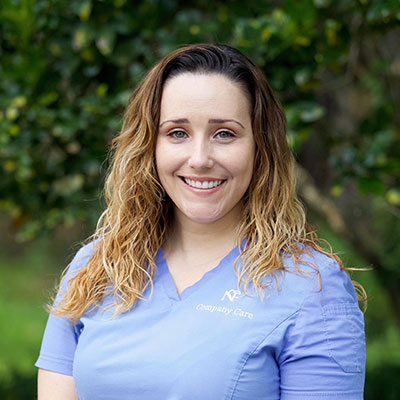 Cricket studied at Florida State University where she double majored in Theatre and Communication/Mass Media Studies. She began her career in public relations but soon transitioned into sales and marketing. Prior to joining the Company Care team in 2017, Cricket held various positions with notable organizations such as the Florida Department of Education, Visit South Walton and Simon Property Group. When she isn't working, Cricket likes exploring Gainesville with her two dogs Spike and Rhett, watching football games, traveling and seeing live music.
---
Emily Williams, RN - Charge Nurse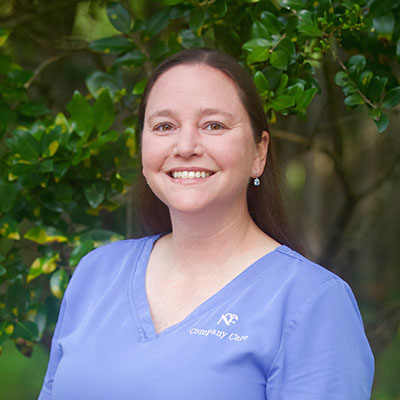 Emily received her Bachelor of Science degree in Nursing from the University of Florida in 2003. She has years of experience in nursing, including emergency services, radiology and oncology. She currently works for Company Care as an Occupational Health Nurse. Emily lives in Newberry with her husband and son.
---
Jennifer Sidman, MD – Medical Director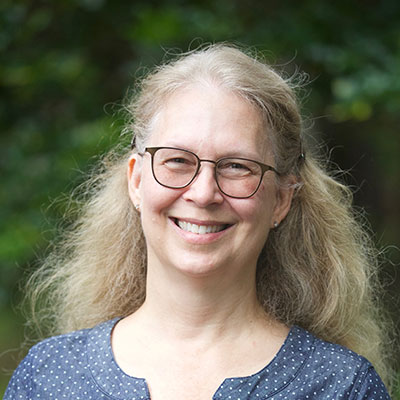 Jennifer M. Sidman, MD, was born in Ohio and grew up in Gainesville, Fla. She attended the University of Florida in Gainesville and is a graduate of the University Of Florida College Of Medicine. Dr. Sidman completed her family practice residency at the University of Florida Family Practice Program. She is Board Certified with the American Board of Family Medicine and is a Fellow of the American Academy of Family Physicians. Before joining Gainesville Family Physicians in 2013, Dr. Sidman was in private practice for 20 years in Gainesville. She enjoys all aspects of family medicine with a special interest in women and children health.
---
Kelly Cole, PA-C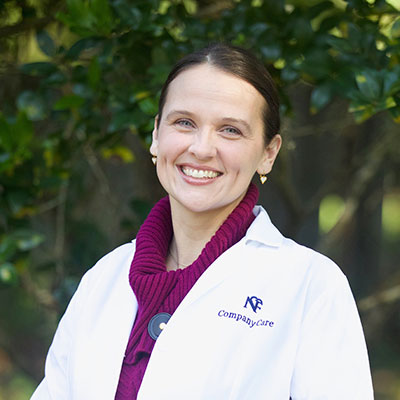 Kelly is a PA-C who received her degree in Physician Assistant Studies from Kettering College of Medical Arts in Dayton, Ohio in 2005. Kelly enjoys a challenging work environment and has worked in occupational, emergency and acute care medicine for the past 9 years. She is fluent in English and Spanish and worked closely with migrant populations while doing rural healthcare. She, her husband and their 5 children enjoy the outdoor parks and water activities that Florida has to offer. She is happy to be a part of the team at Company Care!
---
Emilie Lang, MSN, APRN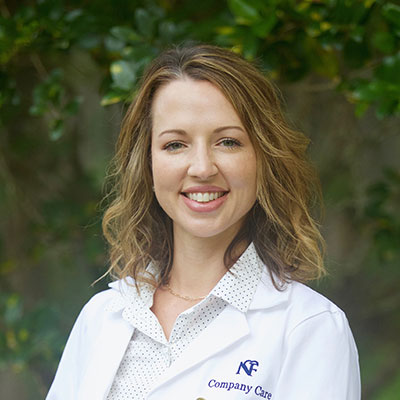 Emilie is an ANCC certified Family Nurse Practitioner who received her undergraduate and graduate degrees from the University of Florida. She has worked in Urgent Care, Surgery and Occupational Health and enjoys her role as patient advocate and educator. In her spare time Emilie loves going on adventures with her husband and daughter; exploring the beach, mountains and everywhere in between. She is honored to be a member of the Company Care Team and looks forward serving your healthcare needs!
---
Allisha Piazza, DNP, FNP-C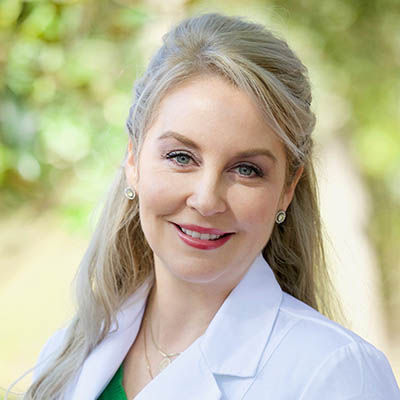 Allisha holds a Doctorate of Nursing Practice from the University of South Florida. She is certified through the American Association of Nurse Practitioners with additional NRCME and NAECB certifications. Her background is in internal medicine, with health promotion and disease prevention leading her delivery of patient care. She is an aviation enthusiast, where she met her husband and obtained licensing, and enjoys remaining active with her family. 
---
Amanda Reed, MSN, APRN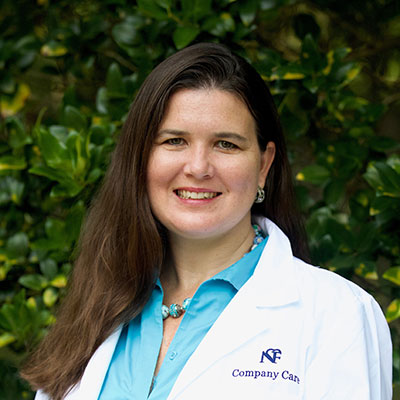 Amanda is new to us at Company Care. Amanda holds a dual certification as both an Adult and Woman's Health Care Nurse Practitioner. She has over 19 years of experience in health care including OBGYN, surgical oncology, and primary care. She strives to deliver holistic care, focusing on health maintenance, health promotion, and disease management. Her goals are to be an advocate for the patient, to promote the profession of nursing, and to constantly strive for a higher level of knowledge. She received her bachelors of science in nursing in 2001 from the University of Tennessee at Chattanooga, and her masters in nursing in 2006 from the University of Washington. She was born and raised in Gainesville, Fl. She is married to a commercial pilot and they have two children. She enjoys spending her free time doing water activities, traveling, and volunteering.
---
Gerdien Van Atten-Kireta, MSN, FNP-C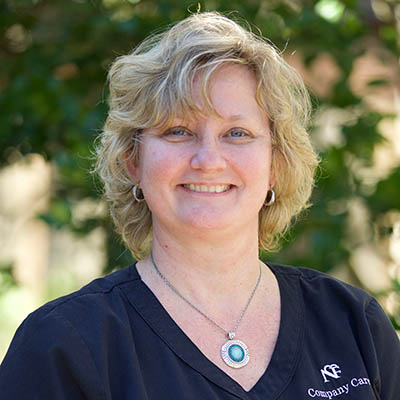 Gerdien has been a Nurse Practitioner at Company Care since 2014 and a Registered Nurse for 15 years before that, both in the acute care and outpatient settings. She received her Master of Science in Nursing degree from the University of South Alabama and is a certified Family Nurse Practitioner through the American Association of Nurse Practitioners. She is also a member of the Florida Nurse Practitioner Network and actively promotes the value of nursing practice. She holds national certifications in hearing conservation, spirometry and federal DOT regulations.
Gerdien grew up in Curacao and in the Netherlands and moved to the United States more than 20 years ago to join her military husband. After several moves throughout the southeast, she is happy to have settled in Hawthorne, Florida with her husband and daughter.
Gerdien is a personable, team-oriented Advanced Practitioner who is committed to providing the highest standards of care in a collaborative and compassionate setting, realizing that the best outcomes are achieved when patients are empowered and take an active role in their healthcare.
---
Paula Walker, MPAS, PA-C
Paula was born and raised in Gainesville, Florida and graduated from Buchholz High School. Paula completed her Bachelor's Degree in Health Science at the University of Florida and earned her Master's Degree at the University Of Florida School Of Physician Assistant Studies. Her areas of interest are Occupational Health, Community Health and Dermatology. Paula is an active member of the American Academy of Physician Assistants and the Florida Academy of Physician Assistants, as well as holding her NRCME certification. Paula enjoys spending time with her family and cheering on the Florida Gators!
---
Tina Braman, RN
Tina is a native of Massachusetts, accent and all. She has been an RN for over 25 years specializing in Pediatrics. Tina comes to Company Care with a wealth of knowledge and experience ranging from Inpatient to Emergency Services. Tina recently rejoined NFRMC now working Company Care. She loves to travel with her husband and three grandchildren.
---
Wendy Fairhurst, RN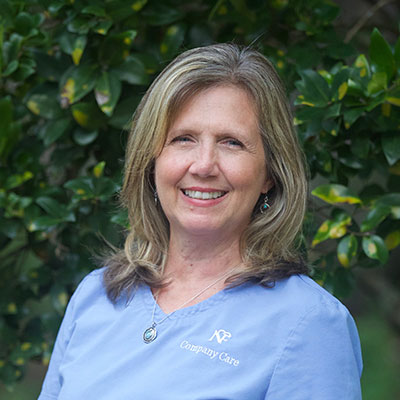 Wendy was an LPN for 16 years prior to continuing her education in the RN Bridge program at Santa Fe College here in Gainesville. Wendy graduated with honors in 2011 and came to NFRMC as an Occupational Health Nurse. She has a range of nursing experience including public health, home care, pediatrics and radiology. Wendy and her husband Bill have three sons and many pets.
---
Teresa (Teri) Hancock, RN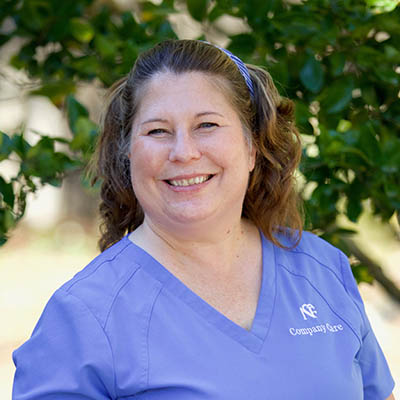 Teresa has been an RN for 15 years with experience in Workers Comp, Occupational Health, Dialysis, Pediatrics and Intensive Care Unit. In addition to nursing, Teresa is also a Medical Technologist with vast experience in Microbiology. Outside of work, she enjoys spending time with her family, and volunteering with the community theater and the Optimist Club of Alachua.
---
Lucinda Murphy, RN
Lucinda has been an RN for 22 years. She has a wide range of nursing experience, which includes Travel, Emergency Room, Intensive Care Unit and Geriatrics. Lucinda enjoys spending time with her grandchildren and her mini Dachshund Piper. She is happy to be part of the Company Care family.
---
Sharon Holmes, PCT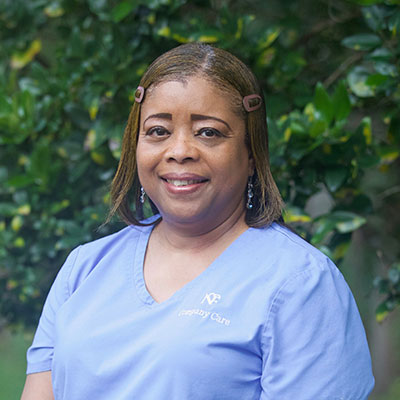 Sharon has been a Certified Nursing Assistant since 2008. She also has a Claims Adjuster License and has worked in the Insurance Industry for 16 years. She is a native New Yorker and has lived in Florida since 1990. Sharon enjoys traveling,crafts and spending time with her husband,children and grandchildren. She also has 2 dogs named Coco and Uzi.
---
Antrice Byrd, PCT
Antrice has been a Certified Nursing Assistant for 18 years. She has have two beautiful daughters that her whole world revolves around. Antrice daughters keeps her and her family busy with sports. Her hobby consist of spending time with her family. As Antrice likes to say, "It's never a dull moment with them." She prides herself with having her family as her biggest support system and loves her family dearly!
---
Viviana Velasco Ceballos, PCT
Viviana has been a certified nursing assistant since 2004 and began her career with North Florida Regional in 2012. After moving from Colombia in 1989, Viviana has lived in the northeast for more than 10 years. She decided to move to gator country where she now lives and enjoys working at Company Care. She holds national certifications in both spirometry and audiology.
---
Beth Leventhal, RT(R), ARRT
Beth has been with North Florida Regional Healthcare for 29 years. She graduated top of her class in 1994 from the Radiologic Technologist program at Santa Fe College. Beth has been providing dedicated radiology services to the Gainesville community for the past 24 years. Currently, she leads a team in diagnostic radiology services for North Florida Regional's Company Care. She also holds national certifications in spirometry and audiology as well as being a urine drug screen and breath alcohol collector and trainer. Beth has two grown children and can be seen around Gainesville with her yellow lab, Brady.
---
Beline Lafayette – Outreach Services Coordinator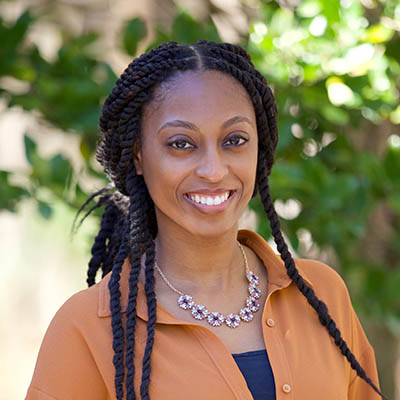 Beline is new to us at Company Care. Beline received her Bachelor's degree from the University of Florida where she majored in Tourism, Events and Recreation Management. Prior to joining Company Care, Beline has held various positions in the hospitality industry. Beline was a Certified Nursing Assistant for four years, worked at multiple hotels and was a Conference Coordinator for scientific meetings. While Beline is not working, you can find her around Gainesville spending time with her husband and son.
---
Billing Specialist - Vacant